---
KLM's Queen of the Skies gets to fly again
Perhaps it was Strategic Aviation Solution Int'l (SASI) President and CEO Stan Wraight's open letter to Air France-KLM a couple of weeks ago [CFG reported], urging the airline to reconsider its decision to mothball its passenger Boeing 747s at the end of MAR20, that triggered the move to bring back two of its trusty 747-400 Combi workhorses. In cooperation with Philips, KLM will provide a cargo airlift to China – twice a week to Beijing and three times a week to Shanghai – in order to transport medical equipment over a period of between 6 to 8 weeks starting 13APR20. These additional 250 tons/week of cargo capacity operate as an extra to the cargo-only B777s and 787 Dreamliners currently operating, and the airline's B744Fs continuing to service the U.S., Africa and South America.
KLM CEO Pieter Elbers commented: "I believe it is incredibly important that KLM can be of service to broader Dutch society in this time of crisis, by way of our flexibility, creativity and cooperation with partners. This is perfectly exemplified by the initiative from Philips to join hands with KLM in seeking a solution for freeing up cargo capacity between Europe and China for essential medical supplies. I am very proud that the professional and dedicated staff of both companies have managed to realise this initiative at such short notice."
Philips' CEO, Frans van Houten added "Philips and KLM have been key partners for more than 100 years. I am very pleased that we have now joined hands once more, in this time of need, to create this important air bridge with China. In combination with the existing air bridge to the United States, we can now more rapidly transport essential medical equipment and supplies between the United States, Europe and China, thereby ensuring that healthcare professionals can be more rapidly assisted in their battle against the coronavirus."
---
LAX and MEX are the latest LATAM Cargo network additions
With a view to providing Peruvian mango exporters and Chilean salmon producers better services to the main consumer markets U.S. West Coast, and from there on to Asia, LATAM Cargo has taken up Los Angeles in its network. The decision to include a Mexico City service was driven mainly by the South American demand for electronic products from the U.S. and Mexico. Both route additions came about in response to alleviating the loss of capacity caused by COVID-19-induced passenger flight restrictions. Two frequencies per week will fly Santiago (Chile) – Lima (Peru) – Los Angeles (USA) – Mexico City (Mexico) – Lima – Santiago.
Andrés Bianchi, CEO of the LATAM Cargo Group, stated: "The current environment is stressing supply chains across the globe. We want to prove our clients that we remain committed to their success. This new freighter operation replaces the passenger capacity that was critical to key clients. As strategic partners, we moved swiftly to offer them a new alternative and we intend to continue doing so in the markets that require it."
LATAM Cargo Group has consistently been augmenting its network offer, also increasing capacities between South America and Europe by 20%, and upping freighters frequencies to the U.S. by 15%.
Today (13APR20) LATAM Cargo announced the upping of flights between South America and Europe by adding a seventh weekly freighter frequency. The step comes as reaction to the loss of lower deck capacity caused by the halt of passenger services forced by Covid-19. "The dramatic reduction of passenger operations has significantly impacted the range of air transportation options available to our clients. This is particularly significant for clients that relied on the frequency and lower cost of belly capacity. In order to support all supply chains, and very specifically those dealing with aid and relief, we are focusing on adding more capacity on critical routes. Providing a daily flight between Europe and Latin America is tangible proof of this commitment," commented Andrés Bianchi, CEO of the LATAM Cargo Group.
With the new itinerary, Amsterdam Schiphol Airport has become the main point of entry to the European continent. This benefits exporters of perishables from Latin America, including products coming from Chile, Peru, Guatemala and Brazil, although the route is available to all market participants. The return route will originate in Frankfurt, Germany. Medical equipment and supplies, electronics, auto parts, general cargo and other types of shipments will be exported from Frankfurt to destinations in South America.
---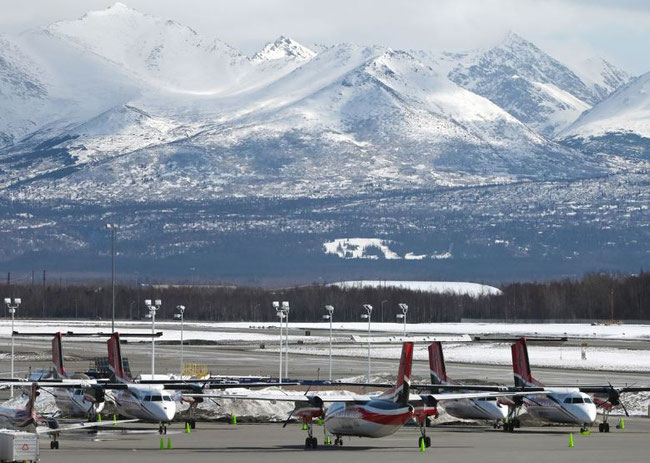 Alaska's RavnAir Group files for bankruptcy
A 90% drop in passenger revenue and a ban on all non-essential travel within Alaska on 27MAR20, have led the RavnAir Group to park its fleet of 72 aircraft "indefinitely", temporarily lay off its staff, and file for Chapter 11 bankruptcy, thus leaving the around 10,000 inhabitants in 115 rural communities (not accessible by road) without Alaska's largest regional carrier's passenger, cargo and mail services. "We took these actions to ensure our airline has a future, and to give us time to 'hit pause'" while it seeks treasury grants and "other sources of financial assistance that will allow us to weather the coronavirus pandemic and emerge successfully once it has passed," a spokesperson for the airline said, and CEO Dave Pflieger underlined that everything was being done to "resume the vital air service you depend on to get home to your families, to your businesses, to medical appointments, and to other duties that are essential to our communities and the state of Alaska."
In the interim, some of RavnAir's routes, especially those linked to commercial fishing centers which are ramping up for the summer peak, will be covered by its partner, Seattle-based Alaska Airlines, which has stated that it will increase cargo services and is looking to take on a number of Ravn staff. Other, smaller regional carriers such as Grant Aviation, Ryan Air and Yute will take over some of the other remote destinations, though it may take several weeks to get a recovery service up and running at a crucial time when these remote communities are meant to be tested for COVID-19, and depend on air services for fragile medications such as insulin. A health spokesperson, Tiffany Zulkosky, said: "Lack of regularly scheduled passenger and cargo service threatens the life and well-being of thousands of Alaskans, while also endangering a delicate supply chain — including the movement of lab samples (like COVID-19 testing kits, blood draws), delivery of chronic medications, personal protective equipment, and much more," and said that charter operations were being arranged for short-term, high-need solutions.
---
Eurocontrol's member states agree to ATC charge deferral
Positive news on 08APR20: In view of the 90% drop in daily flight operations because of the coronavirus, Eurocontrol agreed to allow airlines to defer ATC charge payments of up to €1.1 billion ($1.2 billion) over the next few months, to "provide much needed liquidity support" according to Eurocontrol's DG Eamonn Brennan. "This dramatic reduction in operations is likely to continue for a number of weeks to come and therefore the airline industry had sought the support of Eurocontrol member states to help it deal with its sudden and significant cash flow crisis."
He went on to say: "Many airlines contacted Eurocontrol to confirm that they would not be in a position to facilitate their next payments. With traffic down 90%, our member states have clearly recognized the shared challenge. This payment deferral will ease the immediate burden on airlines, and it provides certainty on financial planning to both airlines and the Air Navigation Service Providers (ANSPs) on when payments will be made after the crisis has abated."

IATA's VP Europe, Rafael Schvartzman, welcomed the news: "This is exactly the kind of solidarity which the industry needs to show during this period of deep and unprecedented crisis. Once the COVID-19 restrictions start to be lifted, Europe will need its airlines to be in good enough shape to be able to jump-start the economy. This charges delay will help make a big difference in that cause."
---
Airbus and Boeing suspend production of A220/A320 and B787 respectively
The latest cessations due to Corona affect production of Boeing's 787. Since 08APR20, all 787 operations at Boeing South Carolina (BSC) have been suspended until further notice. Its 06APR20 statement reads very similar to its previous notification of the temporary Puget Sound area facilities, [CFG reported] pointing to enhanced cleaning activities, and requesting staff to work remotely where possible, and offering those unable to do so, paid leave for the initial 10 working days of the suspension – double the company policy – after which they have the option to use a combination of available paid time off benefits or file for emergency state unemployment benefits. Brad Zaback, VP and 787 Program GM, commented: "It is our commitment to focus on the health and safety of our teammates while assessing the spread of the virus across the state, its impact on the reliability of our global supply chain and that ripple effect on the 787 program. We are working in alignment with state and local government officials and public health officials to take actions that best protect our people."
Over at Airbus, production of its A220 and A320 at Stade and Bremen in Germany, and Mobile in the U.S., has been put on hold from 06APR to 27APR and 29APR respectively, though key, onsite business support services remain in place as Airbus continues to monitor inventory and the COVID-19 situation. This follows on from temporary production stops in France and Spain recently. While French production and assembly has gradually resumed since 23MAR20, commercial aircraft wing production operations in the UK and commercial aircraft production activities in Spain and Canada continue to remain on hold in accordance with local government restrictions.
---
Brigitte Gledhill

We always welcome your comments to our articles. However, we can only publish them when the sender name is authentic.